How can Green Tea X50 help you?
Are you looking to lose or maintain weight?
Are you looking for more energy without the sugar, caffeine or gaurana of energy drinks ?
Are you looking for a drink that actually gives you long term health benefits?
Are you looking for antioxidants to detox and cleanse for inner health?
Are you looking for a great tasting drink you can drink all day?
Asian cultures have known about the medicinal and health benefits of green tea since ancient times, using it to treat everything from headaches to depression to weight loss and detox. Green tea is one of natures best metabolic stimulating antioxidants and can be found as a main active thermogenic ingredient in successful fat burners & weight loss detox products. To lose weight you must have a healthy metabolism, otherwise weight loss is virtually impossible. Now thanks to Green Tea X50 weight loss when used in conjunction with a healthy meal plan & exercise, weight maintenance and detoxing for inner health may never be easier. With up to 20 cups of green tea in each serve and virtually no sugar, Green Tea X50 is the healthy choice.
Why is Green Tea X50 the best for you?
Because Green Tea X50 may help….
Stimulate metabolism, promote a weight loss detox, assist weight maintenance, help burn body fat
Each serve is the antioxidant equivalent of up to 20 cups of green tea & contains resveratrol
Boost energy, detox and helps cleanse liver & kidney
One of nature's most potent antioxidants with up to 200 health benefits
Improve & regulates cholesterol levels
Only 10 calories per serve
No Preservatives, Naturally Flavoured, Low GI, Low Sugar and Aspartame Free. Sweetened with Xylitol
May help increase insulin activity, prevent insulin resistance & block glucose absorption
Boost immune system
Highly concentrated blend of green tea & resveratrol
The 6 Variety Assortment Pack has the following flavours: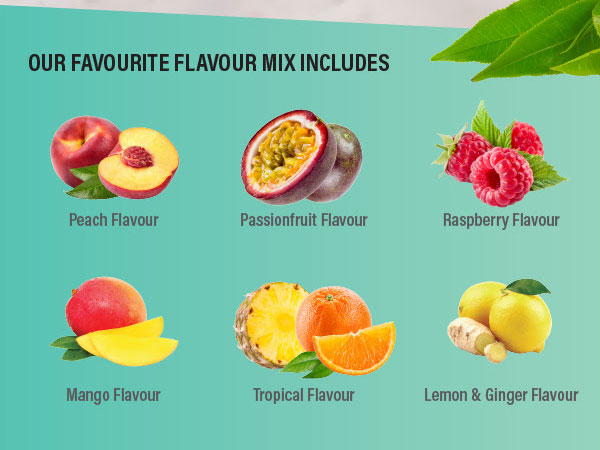 What do I have to do?
Just add one of our great tasting Green Tea X50 powdered sachets (in 3 flavours - original, raspberry or tropical) to 600ml-1 litre of water, shake and enjoy! 1 sachet a day will help improve your overall health, 2 sachets a day will stimulate your metabolism and get it working at its optimum rate to help you burn more calories. The first thing you will notice is the energy Green Tea X50 gives you. And, if you use Green Tea X50 in conjunction with the Accelerated Weight Loss Programme you will see rapid weight loss results.
How does Green Tea X50 work?
Green Tea X50 contains over 600mg of the exclusive to green tea fat burning Polyphenols and Catechins per serve, more than any other product. The secret of green tea lies in the fact it is rich in these polyphenols & catechins, particularly epigallocatechin gallate (EGCG) which is a mega-powerful anti-oxidant. And Green Tea X50 is loaded with them.
Research shows that drinking a high consumption green tea diet may assist in stimulating metabolic function and increased burning of body fat through Thermogenesis. The antioxidant compounds naturally occurring and present in high amounts of green tea polyphenols may stimulate your metabolism through increased energy expenditure to help you burn up more energy, which in turn helps burn fat and inhibit the uptake of glucose in the intestines, resulting in weight loss.
Green Tea X50 also features resveratrol, a super powerful antioxidant usually found in berries, the skin of purple and red grapes, red wine and peanuts. This antioxidant further helps fight the damaging effects of harmful free radicals and improves insulin resistance, making it useful for regulating blood sugar levels as well as assisting with weight loss and detox. There is much research that suggests that resveratrol may also help protect blood cells against oxidative damage which is thought to contribute to the ageing process, help maintain healthy cholesterol levels and support a healthy cardiovascular system.
Green Tea X50 ingredients
Green Tea X50 The Ultimate Antioxidant:

Green Tea X50 has been designed to optimise the health benefits of green tea polyphenols and catechins, particularly EGCG, resveratrol and other antioxidants for maximum health benefits.

Resveratrol:

A super antioxidant found in the skin of berries, nuts and red wine that fights the damaging effects of harmful free radical and helps prevent insulin resistance. Each sachet contains the resveratrol equivalent of 25 glasses of red wine.

EGCG:

The most powerful antioxidant that is exclusive to green tea which is clinically proven to improve overall health and wellbeing, increase energy as well as promote weight loss by increasing energy expenditure.

Trace Minerals:

Derived from sea water Trace Minerals are essential for maintaining good balance of health. Trace minerals have a positive effect on immune system function, energy, metabolism and antioxidant protection.

Other Ingredients:

Green Tea Extract (Camellia Sinensis), Resveratrol (Fallopia Japonica), L-Theanine, Nature identical Raspberry Fruit Powder, Nature identical Tropical Fruit Powder, Citric Acid, Pepper, Alf-alfa, Xylitol, Ascorbic Acid, sucralose & maltodextrine.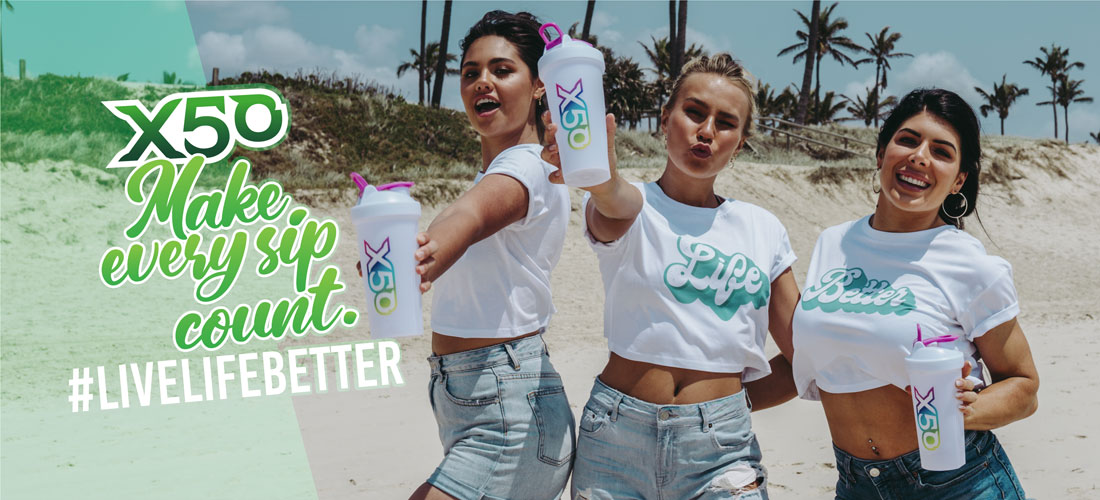 | | |
| --- | --- |
| SKU | x50 |
| Brand | X50 Green Tea & Protein |
Be The First To Review This Product!
Help other Elite Vitamin Zone users shop smarter by writing reviews for products you have purchased.
More From This Category