OxyShred HARDCORE Thermogenic Fat Burner (40 serves) has evolved from the world-leading OxyShred ULTRA Thermogenic, trusted by millions of people globally for delivering proven fat loss results.
OxyShred Hardcore is not for the faint-hearted. It delivers a potent punch to the system, with dialed-up consistent energy, razor sharp focus and mood enhancement to get you moving and burning stubborn fat cells. If you train HARDCORE, diet HARDCORE and you're HARDCORE serious about getting results - OxyShred HARDCORE Thermogenic is formulated for you.
Scientifically formulated with a super-dosed potent combination of metabolism boosting compounds, beta-3 adrenergic amines to stimulate the fat burning receptor cells, acetyl L-carnitine and glycine propionyl-L-carnitine for mobilization of fat cells, as well as mood enhancing nootropics and immunity boosting ingredients, OxyShred HARDCORE has been designed as the next evolution for those long time OxyShred users, or for those who are looking for more caffeine-boost.
HARDCORE VS OXYSHRED ULTRA THERMOGENIC
Metabolism Boosting Stimulant Combination
OxyShred Hardcore includes a more potent, yet smart combination of stimulants to deliver a strong and smooth energy hit. It contains ONLY natural stimulants (with no negative effects on your heart or blood pressure) and enables an increased level of fat burning through a higher potency formula (than our original Oxyshred).
Thermogenic Fat Burning
Advantra Z is a patented alkaloid compound named Synephrine, which is a beta 3 adrenergic amine. It targets the body's fat burning receptors and triggers the body to increase temperature and activate fat burning. In addition, Evodiamine is a unique natural ingredient that has been used in Chinese medicine for centuries to promote thermogenesis and weight loss. Advantra Z and Evodiamine work synergistically across multiple metabolic pathways to activate fat burning, without increasing blood pressure or heart rate.
Fat Cell Shuttle Mobilizers
Acetyl L-Carnitine and Glycine propionyl-L-carnitine provide a 2-phase fat mobilization system to help transport fat cells into the mitochondria of your cells to convert fat to energy.
Mood Enhancer Nootropics
Both HARDCORE and Ultra Thermogenic contain mood enhancers; taurine and tyrosine. However, HARDCORE also contains the super nootropic, Huperzine A. This switches on cognitive function, mood elevation and overall focus. Perfect for people that are on a caloric deficit diet – as it mitigates against brain fog and lethargy.
Immunity / Wellness / Blood Sugar Balance
Both products contain the same immunity and wellness ingredients of glutamine, vitamin C, B vitamins, prebiotic fiber, as well as Chromium Picolinate to help balance blood sugar levels.
Oxyshred Hardcore - Lemon Sherbet
(40 Serves)

Per Serving

% RDI

Per 100g

Energy

18 kJ

339.6kJ
Protein
0g
0%**
0.2g

Total Fat

0.1g

0%**

1.9g
Saturated Fat
0g
0%**
0.6g
Trans Fat
0g
0g
Cholesterol
0mg
0%**
0mg
Carbohydrate
1g
<1%**
18.9g

Dietary Fibre

0.3g

0%

6g
Total Sugars
0.1g
0%
1.2g
Sodium
2mg
34mg
Potassium
0mg
0%
1mg
Vitamin A
200mcg
3774 mcg
Vitamin E
2.8mg
53mg

Vitamin C

248mg

551%

4683mg
Thiamin
0.56mg
46%
10mg
Riboflavin
0.78mg
60%
15mg
Niacin B3
20mg
125%
372mg
Vitamin B6
0.98mg
58%
18mg
Vitamin B12
0.9mcg
38%
17mcg
Pantothenic Acid B5
1.7mg
28%
32mg
Chromium Picolinate
12mcg
3%
220mcg
Caffeine
275mg
5.2g
** Percent daily value are based on a 8,700 Kilojoule diet.
Ingredients
Acetyl L-Carnitine HCl, Taurine, L-Tyrosine, Glycine Propionyl-L-Carnitine Hydrochloride (GPLC GlycoCarn), Caffeine Anhydrous, Inulin Fiber, Vitamin C (Ascorbic Acid), L-Glutamine, Conjugated Linoleic Acid (CLA), Bitter Orange Fruit Extract Powder (30% Synephrine Advantra Z), Guarana Seed Extract (50% caffeine), Raspberry Ketones (From Raspberry Fruit Extract), Green Coffee Bean Extract (50% Chlorogenic Acid), Niacinamide, Evodiamine Fruit Powder (Evodia rutaecarpa), Huperzia Serrata Whole Herb Extract (Huperzine A), d-Calcium Pantothenate, Pyridoxine HCl, Riboflavin, Thiamine Mononitrate, Vitamin B12, Chromium Picolinate.
Flavour-Specific Ingredients (Grape Bubblegum)
Natural Flavor, Fruit & Vegetable Juice Powder (Color), DL-Malic Acid, Sucralose, Calcium Silicate, Silicon Dioxide, Potassium Chloride.

Flavour-Specific Ingredients (Lemon Sherbet)
Natural Flavor, DL-Malic Acid, Citric Acid, Sucralose, Silicon Dioxide, Calcium Silicate, Beta-Carotene (Color).
Oxyshred Hardcore - Grape Bubblegum
(40 Serves)

Per Serving

% RDI

Per 100g

Energy

16 kJ

331kJ

Total Fat

0.1g

0%**

2.0g
Saturated Fat
0g
0%**
0g
Trans Fat
0g
0g
Cholesterol
0mg
0%**
0mg
Carbohydrate
0.9g
<1%**
18.4g

Dietary Fibre

0.2g

0%

4.1g
Total Sugars
0.1g
0%
2g

Vitamin C

190mg

422%

3.9g
Vitamin D
0mcg
0%
0mcg
Thiamin
0.4mg
33%
8mg
Riboflavin
0.6mg
46%
12mg
Niacin B3
19.7mg
123%
402mg
Vitamin B6
0.6mg
35%
12mg
Vitamin B12
0.7mcg
29%
14mcg
Pantothenic Acid B5
1.4mg
24%
29mg
Calcium
11mg
224mg
Chromium Picolinate
10mcg
3%
204mcg
Iron
0.4mg
8.2mg
Caffeine
275mg
5.6g
** Percent daily value are based on a 8,700 Kilojoule diet.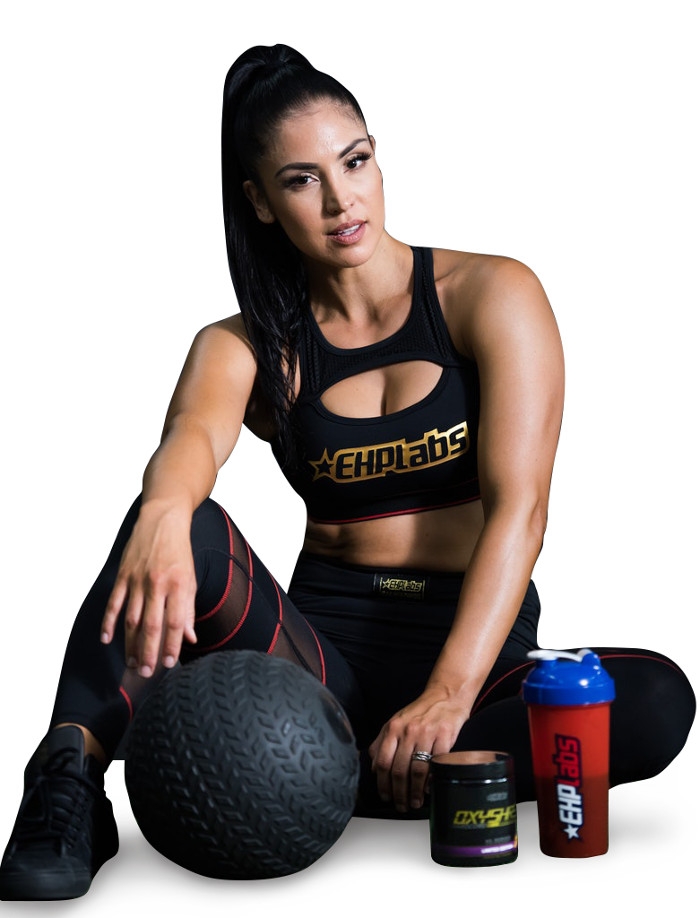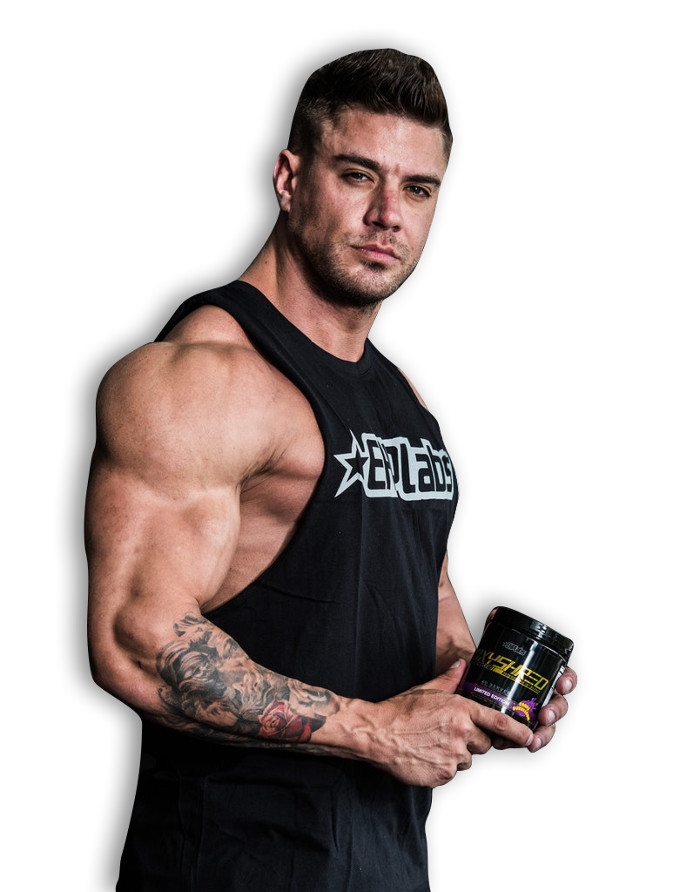 | | |
| --- | --- |
| SKU | oxyhc |
| Brand | EHP Labs |
| Shipping Weight | 0.2500kg |
Be The First To Review This Product!
Help other Elite Vitamin Zone users shop smarter by writing reviews for products you have purchased.
More From This Category