CREATINE A5X™
MUSCLE + STRENGTH + POWER + RECOVERY
Featuring Di-Creatine Malate, Pure Creatine Monohydrate, CREATINE MagnaPower™, Creatine Alpha-Amino-N-Butyrate (Creatine ABB) and Creatine Anhydrous
"Supercharged" with Agmatine Sulfate and Betaine Anhydrous
No Loading, No Bloating, Rapid Absorption
Designed for Demanding Athletes Who Want the Very Best
Sugar Free, Unflavored Powder for Versatile Use
Muscle
Increased strength, between set recovery, and cell volumization are all triggers to increasing lean muscle mass. CREATINE A5X delivers the necessary amount of creatine to affect all of these elements, placing your muscles into a positive anabolic environment for growth. The CREATINE A5X formula also includes the Potentin™ Catalist Matrix to help optimize absorption through the digestive track so more creatine reaches the muscle to positively affect muscle growth, strength and power
Strength
Fueling the Creatine-ATP Cycle (the key energy producing pathway for short duration, high-resistance movements like weight training) by providing additional creatine at the cellular level allows CREATINE A5X to drive strength increases; and with added clinically tested Betaine Anhydrous to deliver even greater strength and muscular performance .
Power
Often misunderstood for strength, power is defined as Power = Force x Velocity. Exercises like sprinting, box jump and Olympic and Power lifts (squat, bench, deadlift, etc.) test an athlete's ability to produce high amounts of power. Creatine plays a critical role in energy production (e.g., muscular contraction) for short duration, high intensity exercises and has been show to increase power in the human body. CREATINE A5X effectively delivers creatine to the muscle to help you maximize your power gains.
How Do I Use CREATINE A5X:
As a Dietary Supplement, adults take one serving (one scoop) one to two times per day. One serving should be taken 30-60 minutes before or after your workout. On non-training days, take one serving in the morning or the evening. This is an unflavored powder that can be mixed with any liquid such as water or any pre- or post-workout supplement. For best results, use daily for at least eight weeks and drink 8-10 glasses of water per day for general health.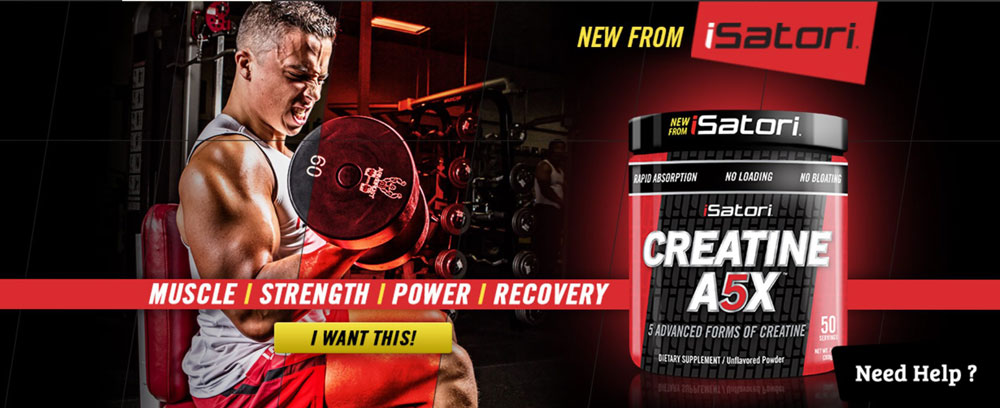 | | |
| --- | --- |
| SKU | a5x |
| Barcode # | 883488005657 |
| Brand | iSatori |
| Shipping Weight | 0.2800kg |
Be The First To Review This Product!
Help other Elite Vitamin Zone users shop smarter by writing reviews for products you have purchased.
Others Also Bought
More From This Category