CLEAN BULKING IS HERE! QUICKMASS FOR FAST LEAN GAINS!
We have redesigned QUICKMASS to build on what was already an industry leading, technically superior formula. We've kept the same proven, researched based, 1010 calorie/60g protein per serving and we still have a superior complex carb blend to fuel your gains but now we've made it even better.
Now with 60% Less Sugar! Only 3g per Scoop (Or 12g per Serving – Less than 5%!)
Made with several sources of Complex Carbs including Sweet Potato, Oat Fiber & Quinoa!
New & Improved Flavor Technology: The Best Tasting QUICKMASS we've ever made!
Proven 3:1 Carb to Protein Ratio
100% Free of Artificial Colors and Dyes
100% Whole Protein Source with zero Non-Protein Amino Acids
QUICKMASS is the world's first and only calorie-activated mass gainer. It also has ZERO trans fats and contains Coconut oil powder, a valuable source of Medium-Chain Triglycerides. Unlike many other weight gainers that contain carbohydrates that are derived from sugar.
QUICKMASS is the world's first and only calorie-activated mass gainer. Only team ALLMAX can bring you this exclusive compound! In fact, QUICKMASS contains only 3g of sugar per scoop! It also contains a blend of carbohydrates including high-molecular weight maltodextrin, sweet potato, quinoa and oat fiber to lengthen nutrient delivery and provide sustained levels of higher energy.
1010 CALORIES
UNIVERSITY REASEARCH-BASED SCIENCE FOR MAXIMUM MASS: QUICKMASS packs 1010 MASS-BUILDING CALORIES into every serving in cold water, no milk required! During one 8-week Gold-Standard (double blind, placebo-controlled) study conducted at California State University, test subjects provided the same calorie content as 2 servings of QUICKMASS per day gained 4.5 times as much fat-free mass and increase chest size by 1 inch.
MASS-PRO
QUICKMASS uses 60g of SUSTAINED-RELEASE PROTEIN to BUILD MASS. MASSPRO creates a rapid and sustained delivery of MUSCLE-BUILDING proteins that work continuously all day to RECOVER and GROW. With our precise 3:1 CARB:PROTEIN ration, you know you are getting the right nutrients to grow! Power up your MUSCLE PROTEIN SYNTHESIS and FUEL your LEAN MASS GAINS!* 3 different forms of protein with high levels of both Essential and Branched Chain Amino acids combine to provide a longer more sustained delivery of protein to help you grow!
CARBPLEX
8 HR. SLOW-RELEASE CLEAN-CARB BLEND is critical to provide the fuel your body needs to grow, all day. CARBPLEX absorbs up to 20 times more slowly than sugar providing the ultimate MASS FUEL to fuel your gains! The QUICKMASS carbohydrate blend is powered by long-chain, healthy and complex carbohydrates such as sweet potato rolled oats and quinoa along with scientifically studied and tested carbs like Vitafiber.
NP5 CALORIE ABSORPTION COMPLEX
Protein Absorption Agents with Enzymatic Nutrient Activators triggering rapid gains in lean body mass. Patented Cinnulin PF dramatically improves nutrient and creatine absorption. The result you absorb the highest quality nutrients effectively to turn calories into MASS.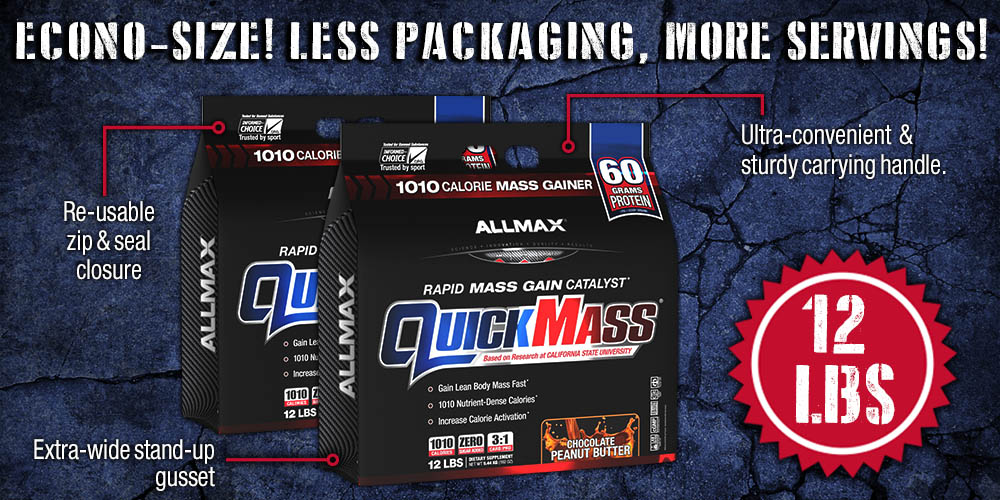 | | |
| --- | --- |
| SKU | qumassam |
| Brand | Allmax Nutrition |
| Shipping Weight | 5.5000kg |
Be The First To Review This Product!
Help other Elite Vitamin Zone users shop smarter by writing reviews for products you have purchased.
Others Also Bought
More From This Category